Hair Care
A healthy scalp results in healthy and smooth hair. Therefore, it is necessary to take care of your hair from the Best Hair Salon in Dubai. Posh Nails is a place that offers 100% satisfaction and uses premium quality products. We are specialized in all types of hair treatments and help you find the perfect hair that you are looking for. Our professionals will help you know more about your hair and let you know what suits you more. We assure you that you will leave our salon in your best look.
The health of your hair depends on the hair products you use and the salon you go to for a visit. Posh Nails, the Best Beauty Salon in Dubai will give you all the care your hair needs. Leave your hair to our hair stylist, we help you find the best. The right haircut will transform you a lot and improve your appearance. Our experts will help and modify your style based on your personality.
We give importance to our clients and consider their hair type, tone of the skin, and structure to give our clients the look they desired for. Our experts know more about all types of hair like curly, wavy, overwhelming, and straight hair. Depending on your profession, facial shape, time, and personality, we help you find the ideal hairstyle. The clients can also tell us about their suggestions.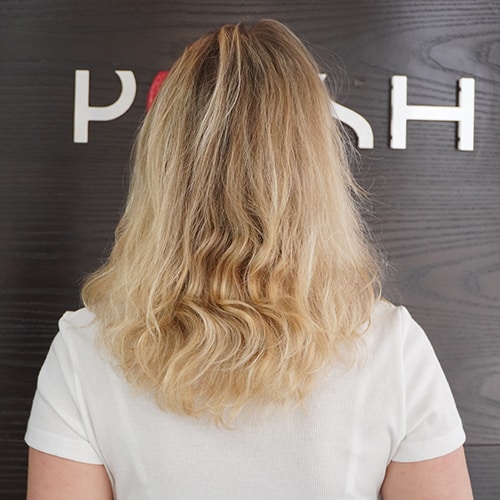 Posh Nails, the Best Hair Salon in Dubai offers hair treatment, hair color, hair cut, and repair. We have a lot to offer you. We also provide special care for kids too. In many ways, kids are extensions of themselves and reflect what we are like. The style of their hair and dress should reflect the character and nature of their personalities. We have energetic experts who skillfully carry out all your requirements. Consult with our hair care experts at Posh Nails, the Best Hair Salon in Dubai.
| | |
| --- | --- |
| | |
| | |
| | |
| | |
| | |
| | |
| | |
| | |
| | |
| | |
| Hair Roots color w/o Ammonia | |
| | |
| | |
| | |
| Hair Full Highlights (short) | |
| Hair Full Highlights(Medium) | |
| Hair Full Highlights (Link) | |
| | |
| | |
| | |
| Protein/ Keratin Treatment | |
| Hairstyle (Upon Consultation) | |
| | |
| | |